Join our Door to Door Sales team today
We're looking for motivated, enthusiastic, energetic and target driven professionals to join our growing Door-to-Door Sales teams nationwide.
It takes guts, confidence and a strong work ethic to start your sales career, but taking the risk is not only rewarding but can also provide you with the best sales experience you could ever ask for.


With PhoneWatch, you'll also become a master of communication, increase your confidence through closing sales, and build an impressive professional network that will benefit your career when you graduate now and in the future.

Each year several hundred salespeople start their careers at Phonewatch. Our salespeople are the foundation of our business, which is why we train them in much more than a trade. By joining Phonewatch you will benefit from many professional opportunities, all in an extraordinary work environment!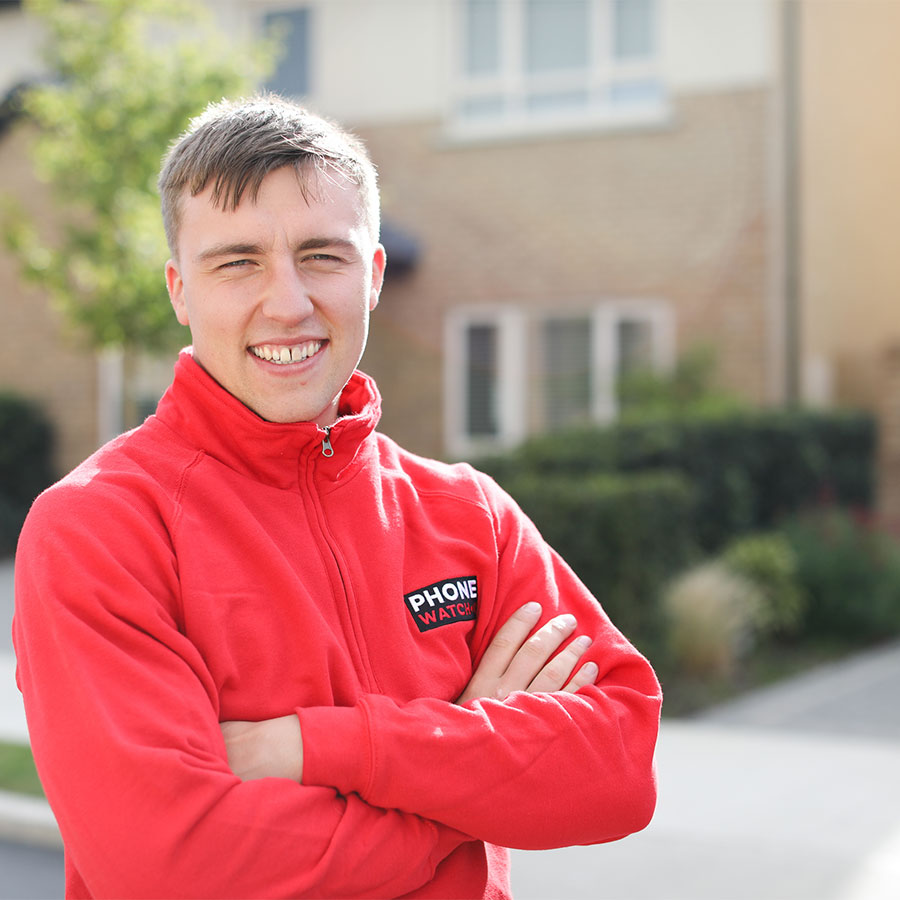 The Role
This role is an entry level role and our award winning team has only one mission: to make you succeed!
Kick start your sales career with PhoneWatch:
Control your success with on target earnings of €3,000+ per month.
Experience our award winning sales training programme.
Develop your sales techniques from the best in the business.
Avail of daily 1:1 coaching sessions with our top sales leaders.
Take control of your progression, career and salary.
Earn while you learn in a supportive, fun and energetic environment.
Define your progression path to management through the PhoneWatch 'Future Leads Programme'
Flexible working hours from Monday to Friday.
Applying with us is quick and easy: complete the application form on this page, we will review it within 48 hours and get in touch with you directly.
Requirements:
English expert level required (must be fluent).
Essential that you are 18+
Must be eligible to work in the EU with Stamp4 or EU citizenship.
Must be available Monday to Friday.
Award Winning Training
Become a PhoneWatch Direct Sales Representative and experience our award-winning sales training programs backed up with 1: 1 coaching in and daily mentoring.
No Experience Needed
Never worked in Sales before? No problem, you have come to the right place to start! 
Earn while you learn
As a PhoneWatch Direct Sales Representative you will have personal control of your progression, career path and salary. Earn while you learn in a supportive, fun and energetic environment.
Travel Opportunities
Explore the world as part of a PhoneWatch "Top Performer" trip. Our best have traveled the world - including 5-star exotic international locations such as Bangkok, Dubai, Singapore, Las Vegas & Aruba!
Top Performers Trips
Top Performers is an annual programme, in which our top sales people can secure their place on amazing V.I.P trips around the globe. Our best have travelled to destinations including Dubai, the French Riviera, Croatia, Las Vegas and Aruba.
Summer Party
We host an annual summer party for all our PhoneWatch team, with all sales teams outside of Dublin travelling and staying in Dublin for the summer party. A great night for all Sales Reps!
Annual Kick-Off Event
PhoneWatch host an annual black tie Kick Off Party for all staff every January, to start our new year. The Kick off is a V.I.P event with musicians and performers, and brings all PhoneWatch staff nationwide together in Dublin to celebrate our successes and reward our dedicated teams.
Career Progression - We'll take you even further!
At PhoneWatch, we focus on career progression, and there are opportunities to develop and progress through the company. Wherever possible, promotions are made from within the organisation, with many of our sales reps moving into office/regional manager roles. 

Comprehensive training is given when you join us, and this training and development continues as you progress within your role, and through all levels of the organisation. 

As a company, we promote a team and family spirit, encouraging continuous career development. We're always with you, and will support you as your develop your sales career with us.
Training - We're with you every step of the way!
A PhoneWatch, we believe in continuous development, and our range of training programmes offer something for everyone. 

From your very first day with us, our PhoneWatch Sales Academy will give you new skills and knowledge. We teach industry recognised techniques that can be applied to any sector and business, not just sales. We support that learning with live sales coaching as you progress with us.

Award-winning Training Programmes

Our PhoneWatch Future Leaders programme offers a fast-track into Sales Management. The programme won Best Sales Training Programme at the Irish Sales Champion Awards 2018. Through hard work and clear vision, we've created one of Ireland's best sales training courses, with a comprehensive range of content to develop you into an even better sales person, and progress you into a management role. Last year, within the PhoneWatch Sales team, we had 14 promotions from graduates of the course into roles across the business, including Business Development, Sales Coaching and Field Sales Management.