Home alarm pack now €49! - Order now and stay safe every day. Ends September 30! Terms & conditions
PhoneWatch
Burglary Report 2023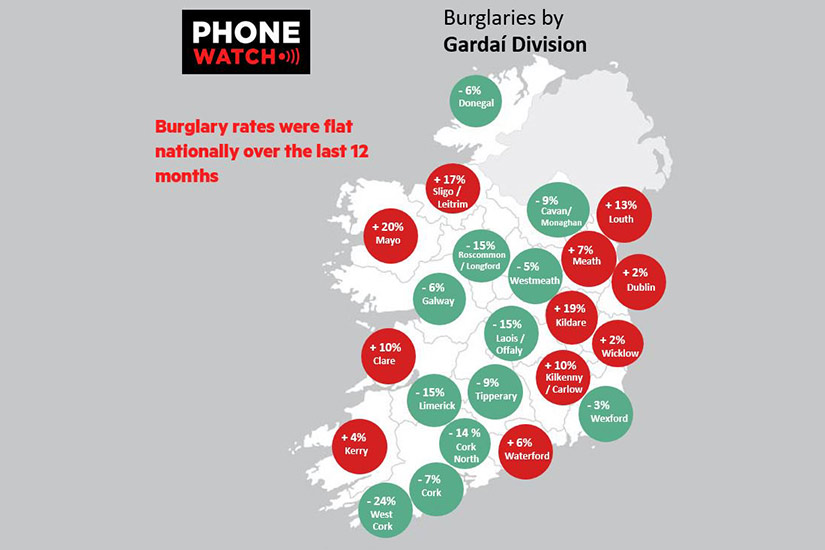 Majority of Irish homeowners now more conscious of risk of burglary – despite no change to burglary rates
Recent CSO recorded crime statistics showed that the number of burglaries recorded nationwide in the 12 months to March 2023 has remained unchanged compared to the previous 12 months (April 2021 to March 2022). Although, some counties and regions have experienced significant increases in the number of reported break-ins. In Mayo burglaries have increased by 20% in the last 12 months, Kildare by 19% and Sligo and Leitrim both experiencing a 17% increase. While there have been positive reductions in some counties, with Roscommon, Longford, Laois and Offaly all decreasing the number of burglaries by 15%. The Dublin region, which accounts for over 4 in 10 (42%) of all burglaries experienced a slight 2% increase.
As the number of houses increase throughout the country due to population growth, the opportunity for burglars also grows.  Recent research undertaken by PhoneWatch reveals that 56% of respondents said that they are more conscious of the risk of burglaries now, compared to 12 months ago. Read more here.
Burglaries Increase by 10% in 2022 – First Annual Increase in 5 Years
In 2022 we were back to living our lives and getting out and about again, but unfortunately during this time burglars were also on the move. According to the latest CSO statistics on burglary, there was an 10% increase in burglaries in 2022 compared to 2021. This is the first annual increase in the rate of burglaries for five years! The new statistics released by the CSO reveals that there were nearly 9,500 burglaries nationwide throughout 2022. 
The increase in burglary rates is widespread across the country, with a large majority (21 of the 28) of Garda Divisions reporting a year-on-year increase. The counties with the highest increase in burglary rates in 2022 were Meath with a 34% increase followed, closely by Mayo with a 33% increase. Kerry saw a 28% increase, and Kildare 26% while Dublin and its regions saw a 13% increase from 2021 to 2022. In contrast, there were some counties who had decreases in the rate of burglaries, Sligo and Leitrim decreased by 18%, Cork North decreased by 14% and Galway decreased by 8%. Read more here.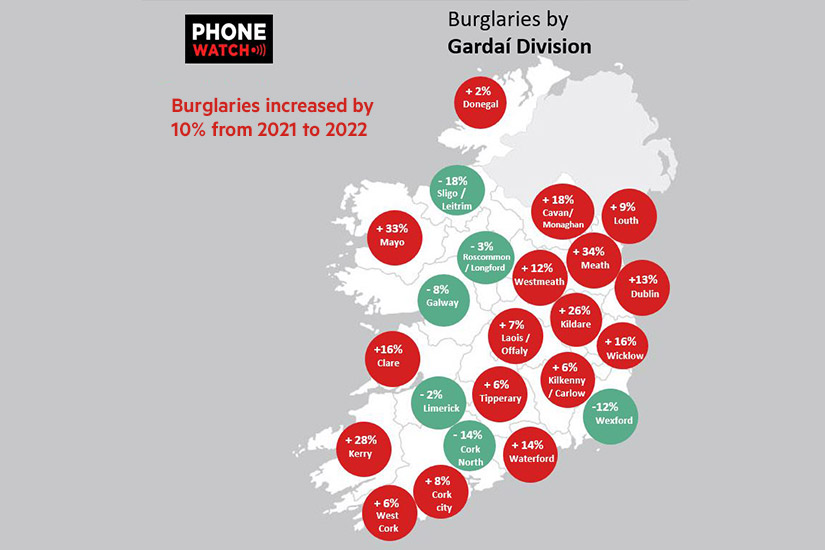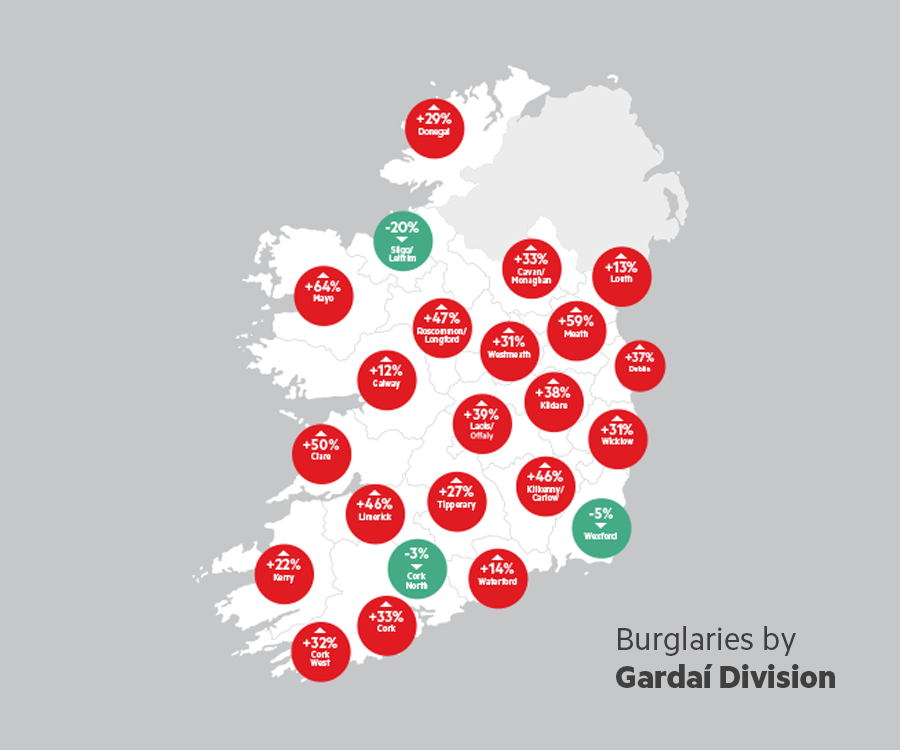 1 in every 10 Irish homes have been burgled over the last 10 years
Here at PhoneWatch, we have taken an in-depth look at the latest statistics from the Central Statistics Office (CSO) and An Garda Siochana to give you an overview of burglaries by Garda division, and Garda station, for 2022 (Q1 and Q2 January to June), the most recent figures available. 

Our homes are sanctuaries where we should feel safe and secure. The CSO's recorded crime index shows 5,047 burglaries and related offences occurred nationwide in Q1 and Q2 2022. This represented a 33% increase on the same period in 2021. This is an unwelcome increase and shows the need to be extra vigilant when it comes to home security.

As a PhoneWatch customer, you are more than 4 times less likely to have a break-in. Our 24/7 monitoring service with our 15 seconds alarm response rate and all-inclusive safety system proving highly effective helps keep you and your home protected. Below shows the percentage increase or decrease in burglary rates per county in 2022 (Q1 & Q2) compared the same period in 2021.
0
of people feel less safe in their homes during winter.
0
of people feel less safe at night-time.
0
of people are concerned about a break-in in their home.
0
of people feel worried when they are home alone.
3 out of 4 Irish homeowners concerned about a break-in
Data published over the past 10 years by the Central Statistics Office reveals that on average 1 in every 10 homes in Ireland has experienced a burglary in that period, with a total of 182,609 burglaries reported.

PhoneWatch has once again published their annual burglary report which outlines their research into burglary patterns over the past ten years. For the report, they looked at 10 years' worth of CSO Burglary stats along with their own data from their Dublin based Alarm Receiving Centre and some consumer research conducted through Bounce Insights.

Data from the Phonewatch Alarm Receiving Centre shows that those with a monitored home alarm are over 4 times less likely to be burgled!

3 out of 4 (72%) Irish homeowners are concerned about a break-in in their homes, with over a third (39%) feeling worried when home alone. The time of year has a huge impact on how safe people feel, with over half (58%) feeling least protected throughout the winter months and 64% feeling particularly unsafe at night-time. PhoneWatch urges all homeowners to take the necessary preventative measures and continue to protect their homes and their cherished items inside.

Although 80% of people have never had a home break-in, or a smoke or fire incident (87%), that doesn't stop over 40% of us regularly asking our neighbours to check in on our homes while we are not there but this does not deter burglars, as they can be aware that a home is left unoccupied and your neighbours can't protect your home 24/7.

Speaking about the most recent figures for 2022, Eoin Dunne, Managing Director of PhoneWatch said "It's worrying to see a 33% increase in the nationwide burglary rate and indeed an increase across most counties in Ireland. If this rate of increase was to continue until the end of the year, there would be approximately 11,500 burglaries in 2022. At PhoneWatch, our aim is never to scare or unnecessarily frighten people, but to make them aware of the realities of burglary so that they can take the preventative measures to help prevent such occurrences. Above all else, PhoneWatch want people to feel safe in their homes. We are reminding all homeowners to take simple but effective steps to help avoid the trauma of a burglary, especially as the dark evenings close in."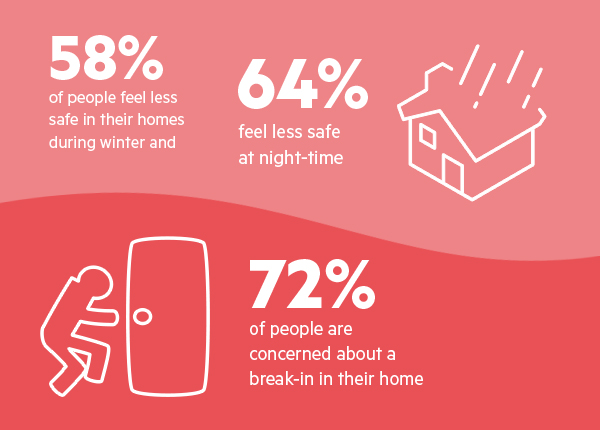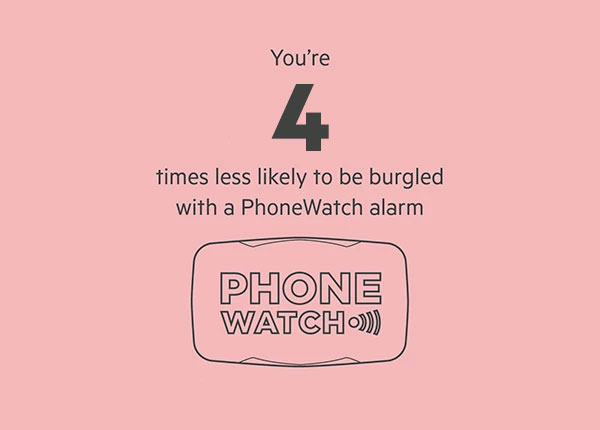 Homes with a monitored alarm are 4* times less likely to experience a break in
There are a number of ways we can protect our homes. A lot of these come down to common sense. Repeatedly at PhoneWatch we encourage people to:
*4 times less likely to be burgled / safer refers to having a PhoneWatch alarm and not having an alarm. Based on the total PhoneWatch customer base divided by total PhoneWatch customers who have experience a burglary (data from our Alarm Receiving Centre). This data is then compared to the national Irish burglary rate i.e. total Irish households divided by total recorded burglaries. This information is taken from the CSO recorded crime data March 2023.